The Bodega Manuel Aragón presents a pasodoble dedicated to Fino Granero in 1924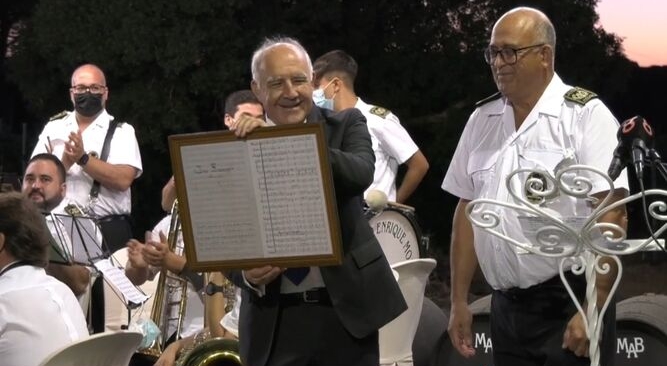 The Bodega Manuel Aragón presents a pasodoble dedicated to Fino Granero in 1924
The Municipal Band was in charge of interpreting this piece, composed by the maestro Enrique Montero, in an act held at the facilities of the Chiclanera company


The facilities of the Bodega Manuel Aragón in Campano have recently witnessed the presentation to society of a score dated 1924 by the Navy's Marine Infantry Band, composed by maestro Enrique Montero and dedicated to Fino Granero wine.

A coming-out presided over by the mayor of Chiclana, José María Román, and several members of his government team, accompanied by the provincial delegate for agriculture of the Junta de Andalucía, Ana Bertón, among other authorities.
Sebastián Aragón, manager of the Bodega Manuel Aragón and on behalf of the rest of the family, highlighted the importance of this composition during the act, which was subsequently commissioned to perform by the Maestro Enrique Montero Music Band. A tribute to a wine that will be 100 years old next year and with this act the celebration activities around this outstanding anniversary begin.
Fernando Bermejo, a friend of the family and a good connoisseur of the wines and of the winery itself, highlighted the character of each of the varieties and the names that each bottle treasures, such as the 'El Neto' amontillado, dedicated to a dear worker from the winery, or recently the Sauvignon Blanc, which commemorates 'La Batalla de la Barrosa'.
For his part, the mayor of Chiclana closed the event and highlighted the drive that the town is having thanks to wineries such as Manuel Aragón, which over the years has not only continued its journey, but has also achieved the highest scores in the Robert Parke guide, the Peñín Guide and to be present in top restaurants such as 'A Levante', by the famous Chef del Mar, Ángel León, among others.